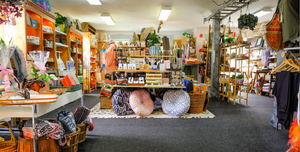 Shop Products with a Purpose
Gift Shop, Yoga, Salt Room, Saunas
Salt Room Therapy
Salt therapy can help with respiratory conditions like allergies, asthma, bronchitis, cystic fibrosis, COPD and others. You'll always have a private room and it's very relaxing!
Buy a Pass
Spiritual Meaning of a Cactus
A cactus symbolizes the ability to see beyond what is visible with our naked eyes. Cacti represent the need to trust that you are protected from danger and threats, and that the biggest threat comes from the armor you surround yourself in everyday.
Native American cultures believe that the cactus represents warmth, protection, & endurance. Because cacti plants can survive in harsh conditions, the cactus becomes a symbol of unconditional, maternal love who will SURVIVE and better yet THRIVE for years to come!
Infrared Saunas
Health benefits include detoxification, weight loss, pain relief, improved circulation, and stress relief.
Buy a Pass